FLOORING TILES AND PAVERS
Coogee sandstone tiles and pavers are yellow beach sand and white in colour with a characteristic grain pattern. Coogee sandstone is a beautifully coloured material that is very porous, softer and less dense than our other sandstones. It shares many characteristics with Sydney sandstone.
SPECIFICATIONS
Tiles with sandblasted finish - 600x400x15mm
Tiles with sawn finish - 600x400x15mm
Cladding - sandblasted rockface 600x300x15-30mm
Other sizes are available by special order; delivery 3-4 months.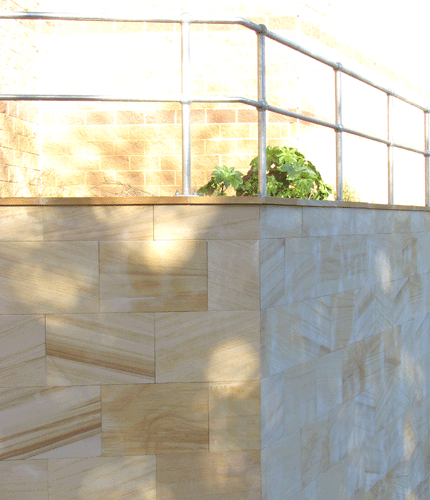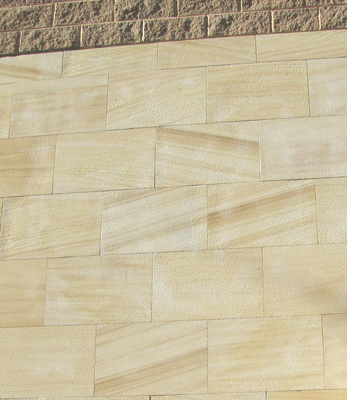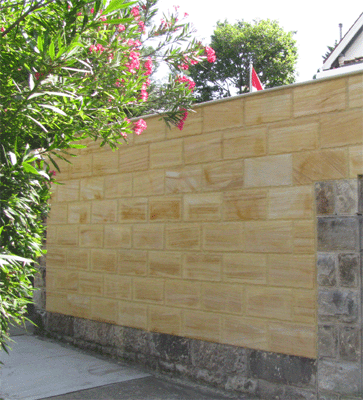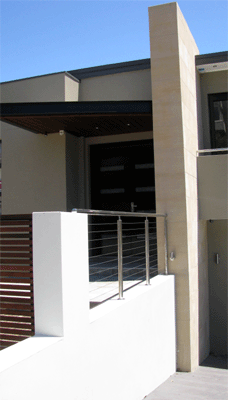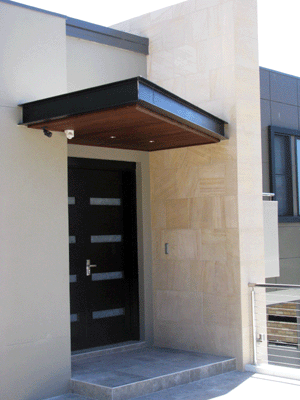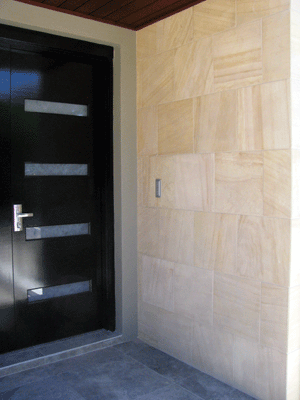 SANDBLASTED SURFACE TREATMENT
The product has a light sandblasted finish that adds texture and softens the appearance. The mild sandblast is very effective as it softens the grain and colour of the stone. It has a similar surface to the finely chipped or "sparrow pecked" surfaces on many of the lovely old heritage buildings. The treatment is time consuming because the stone requires honing first but its effective because it creates beach sand "character" to a floor or wall surface.
CLADDING
Cladding or facing as it is sometimes called, is a simple way of decorating walls as you can see from the image on the right. We have images of specialised cladding products at the Cladding section of the website. These are the more decorative options which cost a little more because they are more difficult to make. The simplest and cheapest form of cladding for walls are plain tiles 15-20mm in thickness, with no intricate borders or patterns. If this idea appeals to you, then check out any of our slate, sandstone, quartzite, limestone & bluestone tiles. If we don't have a size that suits, we will order it in specially. Ring us if you would like to discuss your project - the options are limitless!
CASE STUDY: Rockface Cladding
Coogee rockface cladding is 30mm thick so the corners need to be done carefully. The wall in this image was fixed by Artur Hupp, a stonemason & tiler who has 40 years experience with natural stone. The corner pieces were carefully mitred to achieve continuity. It is beautifully done! You may not notice, but the grout used was selected to match the colour of the stone. In addition, the cladding pieces were sealed before grouting so that excess grout could be removed easily. This prevents a grout haze from occurring - stone with ugly grout residues left behind after the tiler has long gone. There were no such problems with this job!
INDICATIVE TEST RESULTS
Slip resistance (AS/NZS 4586-2004) - 73V (risk of slipping when wet = very low) (67V for sawn surface)

Flexural strength (ASTM C880) (dried) - 8.3 MPa

Flexural strength (ASTM C880) (wet) - 5.8 MPa

Density (ASTM C97-02) - 2063kg/m3

Water absorption (ASTM C97-02) by volume (porosity) - 12.2%

Water absorption (ASTM C97-02) by weight - 5.9%

Resistance to salt attack weight loss (AS/NZS 4456.10) - 1.4%

Resistance to salt attack classification (AS/NZS 4456.10) - B

Resistance to salt attack (AS/NZS 4456.10) mode of decay - Slight surface pitting
NB The benchmarks for use of stone around salt water pools is 0.1% weight loss or less with a minimum slip resistance classification of W.
SUITABLE FOR OUTDOOR PAVING?
Coogee is a natural cladding material but many customers ask us about its suitability for outdoor paving. The high porosity of Coogee sandstone is a two edged sword.... read more via our blog.
Explanatory Note - Coogee sandstone has low resistance to salt attack; this makes it unsuitable for use around saltwater pools. It's porosity makes it unsuitable for indoor use because of cleaning difficulties.