WILLOW SANDSTONE (NATURAL SPLIT SURFACE)
FLOORING TILEs, PAVERS, CLADDING, FLAGSTONES, COPING & TREADS
This sandstone splits naturally along planes and reveals pallets of vivid colour - yellow, gold, brown, pink & eucalyptus green. The topography of the surface is intricate and has character, depth and grain. Stone flakes that are occasionally seen are the best indicators that the stone is high enough quality to split naturally - they are easily removed before fixing. Willow sandstone is frequently used indoors. This may surprise many people but the soft colours are popular and once sealed, the surface is very serviceable. It is better suited to warm climates and indoor / outdoor areas of homes. The biggest challenge on stone and timber floors is sand and grit - a problem common to many homes or beach houses along the coast, as it can cause scratching. This is unlikely to be a problem with sandstone as it has good resistance to abrasion.
SPECIFICATIONS
Tiles - 400x400, & 600x400x15mm
Pavers - 400x400x30mm & 600x400x30mm and other sizes by special order
Bullnose coping - 400x400x22mm & 400x400 + 500x500x30mm & other sizes by special order
Bullnose Tread (with bullnose edge) - 1000x350x30mm & 1500x350x30mm
Ledge tile - 400x400x15mm with 25mm bullnose
Cladding - 600x300x2-30mm (images Cladding page )
Sandblasted tiles - 400x400x15mm
Flagstone crazy paving - sold by m2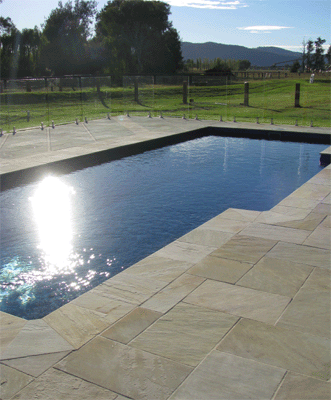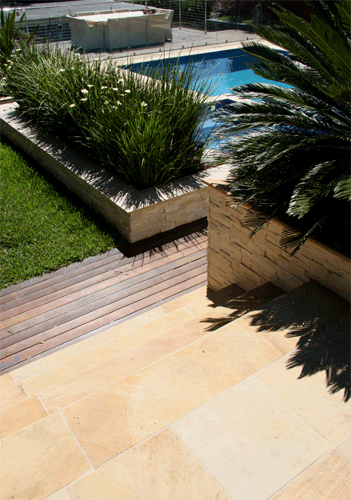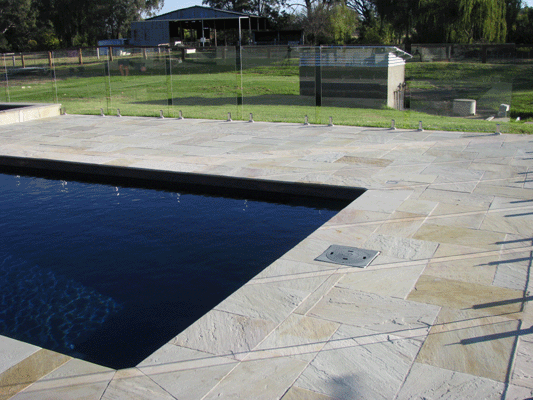 Cladding or facing as it is sometimes called, is a simple way of decorating walls. We have images of specialized cladding products at the Cladding section of the website. The image above illustrates how Willow cladding can beautify a home with stunning results. The owners of this home were delighted when told that the value of their property had risen considerably as a result of the clever modifications.
SALTWATER POOL SUITABILITY
Willow sandstone performs well around pools but you need to get drainage done well and use the correct sealant. Reading "When Good Stone Turns Bad" will help you avoid traps and achieve a successful outcome.
INDICATIVE TEST RESULTS
Slip resistance (AS/NZS 4586-2004) - 65V (risk of slipping when wet = very low)

Flexural strength (ASTM C880) (dried) - 19.4 MPa

Flexural strength (ASTM C880) (wet) - 16.1 MPa

Density (ASTM C97-02) - 2421 kg/m3

Water absorption (ASTM C97-02) by volume (porosity) - 5.25%

Water absorption (ASTM C97-02) by weight - 2.17%

Resistance to salt attack weight loss (AS/NZS 4456.10) - 0.2%

Resistance to salt attack classification (AS/NZS 4456.10) - A (suitable for wet, dry & salt attack cycles)

Resistance to salt attack (AS/NZS 4456.10) mode of decay - no decay visible
NB. The benchmarks for use of stone around salt water pools is 0.1% weight loss or less with a minimum slip resistance classification of W.
Architects - AS HB197 (see below) may be used to approximate Oil Ramp test R values - there is no conversion table as the tests are vastly different. On this basis, V (on the more relevant & less costly wet pendulum test) is closely aligned with R11 and X with R10.
STONE QUALITY RATINGS
Explanatory Note - Sandstone has a textured, natural split surface that makes cleaning & maintenance challenging in an indoor setting.
INTERPRETATION OF SLIP RESISTANT TEST
(Reference AS HB197:1999)