CHINESE BLACK SLATE FLOOR TILES
This is a dark grey/black slate with a natural split surface that is incredibly dense with a nicely textured surface grain that provides character and excellent slip resistance. It is also popular in restaurants and bars because it is highly impermeable to water and easy to clean.
The slate is suitable for both indoor and outdoor use and has been used on walls just as successfully as it has been for flooring. It's also suitable for wet areas such as shower recesses, bathrooms and water features. The test results at the foot of this page are proof of the extraordinary quality of Bellstone's black slate. This is truly an exceptionally durable stone.
SPECIFICATIONS
Tiles natural split - 300x200, 300x300, 400x400 & 600x300x9-12mm in blue/black colour
600x600x12-15 & 900x600x12-16mm in a slightly lighter grey/black colour.
CASE STUDIES: Chinese Black Slate in Sydney Restaurants
CASE STUDY: PJ Gallagher's Boulevard Hotel at Enfield
Black slate was used by Peter Jay Design Associates on the stunning refurbishment of PJ Gallagher's Boulevard Hotel at Enfield. Four pieces of 40x40cm natural split black slate was teamed with Australian hardwood flooring in a checkerboard design on the floor of the hotel. The floor immediately under the bar was laid with 60x40cm black slate - this is visible in both images. Flagstone pieces of black slate were used on a corridor leading to the refreshment rooms. Bluestone cobbles were incorporated with the slate at the main entrance of the pub as you see from one of the images below. All in all, a very impressive result with a very happy manager.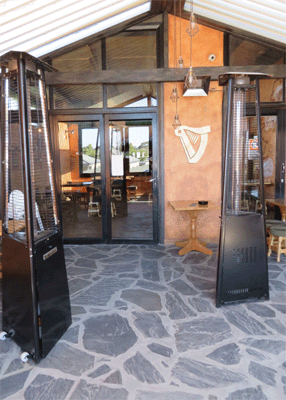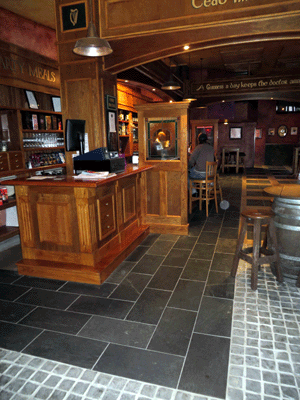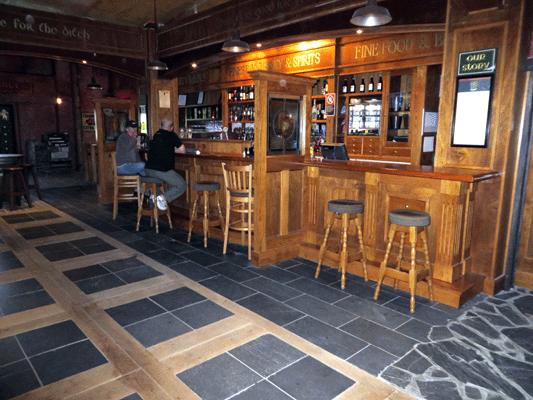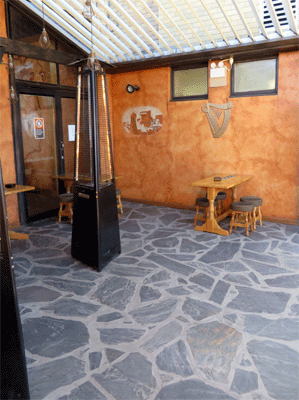 POPULAR FOR FIRE HEARTHS
Black slate is very popular for use on fire hearths in both natural split and honed form. There are very practical reasons for this! Apart from aesthetics - the surface shows no dust, soot etc emitted from the fire or slow combustion wood-fired heater. In winter, the glow of fire contrasts beautifully with the brooding slate providing an almost irresistible attraction. The hearth photographed in a country home in the image (right) has natural split tiles on the floor and walls coupled with a 1.5 metre long honed bullnose tread in front - a favourite spot for family members to stand and warm-up! Even better with a glass of red in one hand!
SHOWERS, HARD WATER & SOAP RESIDUES
Think carefully about using black slate on the floor of shower recesses especially if you have hard water. This slate has a very attractive natural grain that is quite adept at trapping soap scum on the surface; these dry and often leave annoying white marks as you can see above. This is quite common in laundry areas as well. Soap scum is quite easy to remove - use a pH neutral detergent or Aquamix Concentrated Stone & Tile Cleaner.
INDICATIVE TEST RESULTS
Density (ASTM C97-02) - 2753 kg/m3 Slip resistance (AS/NZS 4586-2004) - 56V (risk of slipping when wet = very low)

Water absorption (ASTM C97-02) by volume (porosity) - 0.63%

Water absorption (ASTM C97-02) by weight - 0.23%

Flexural strength (ASTM C880) (dried) - 29.3 MPa

Flexural strength (ASTM C880) (wet) - 22.6 MPa
SEAL IT OR LEAVE NATURAL?
The test results below indicate that this slate should not need to be sealed. It's dark colour is not likely to show the usual coffee, tea or red wine stains so there is a good argument for saving your money. However, there are two very practical reasons for sealing:
When used indoors, some people prefer the colour enhancement provided by surface sealers and on the natural split surface cleaning is much easier as well.
To protect the slate from oil and grease stains especially around food preparation areas. Unless these are wiped up quickly, they will leave marks on an unsealed surface.
GROUT COLOUR OPTIONS
White grouts have been used on the floor in this bathroom and living area; this has the effect of accentuating the lines across the floor area. A checkerboard pattern has been used on the bathroom floor and a brick bond pattern in the living room. The effect is to lighten the floor and delineate and highlight the floor area. The downside is that the white grout lines maybe a little harder to keep clean. They also detract from the character of the stone. This approach is quite different from the matching grey grout used at the Sydney Cove Oyster Bar where designers accented design features at eye level.