AFRICAN MULTICOLOUR FLOORING SLATE
African Multicolor slate is sourced from South Africa and has a blue/black and silver background with a palette of beautiful bright colours of orange, gold red and pink embossed on the surface. This very hard, dense floor slate has beautiful colours on a black, silver background with splashes of gold, orange through to small patches of crimson. It is natural split on both sides so there is a choice of surface depending on your preferred colour and texture. It is suitable for all internal & external areas on any hard surface - sealed or unsealed.
NOTE: This slate has been quite difficult to procure in recent years; we have low stock levels. Many quarries have run out of export quality rock. We have maintained this webpage to assist customers to identify existing floors
SPECIFICATIONS
Tiles - 300x200, 300x300x10-16mm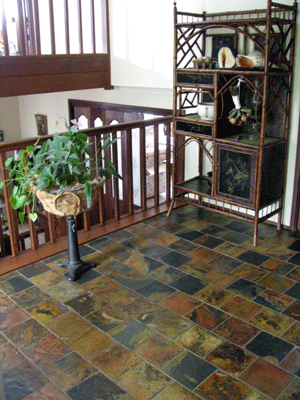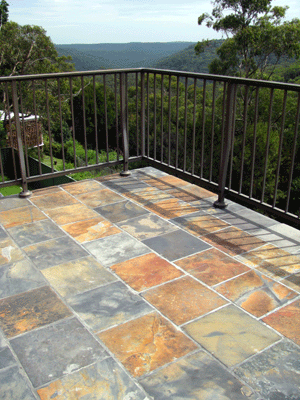 CARE INSTRUCTIONS: SLATE SEALING
By sealing African multicolor slate with a surface sealer you can enhance and darken the colour and create a gloss or semi-gloss finish. There are other sealer options available that leave the slate with a more natural finish. If you need to discuss these, please give us a call - we are always happy to help.