The slate background is dark grey which is visible on the cut or chipped edges of the slate. The overwhelming colour of the slate surface is purple overtones with a mixture of muted gold, pink, ochre and grey colours. The surface of the slate is quite unique - it has soft crater like formations whereas lots other types of slates are more grainy in nature.
This slate has a natural split surface which means it is split along natural cleavage lines and does not require expensive, energy demanding, processing machinery to saw it. However, It does mean the thickness of the material varies a bit - naturally! Flakes of slate that are occasionally seen are evidence that the stone is high enough quality to split naturally and that it is genuinely slate.. The flakes if present, are easily removed as explained in the FAQ section. Please note, this stone is not suitable for wet areas such as shower areas or uncovered outside areas, unless sealed and regularly maintained.
SPECIFICATIONS
Tiles - 300x200, 300x300x10-15mm (sawn edge)
Tiles - 300x200x7-12mm (chipped edge)
Tiles - 405x280x9-14mm (chipped edge)
CASE STUDY
A rural home in Cobbity, NSW
Rajah slate (sealed) used on the kitchen floor of a rural home at Cobbity, NSW. A gloss sealer was applied to protect the slate from spillages, make cleaning easier and enhance the natural colours of the slate.
CASE STUDY
PJ Gallaghers, Leichhardt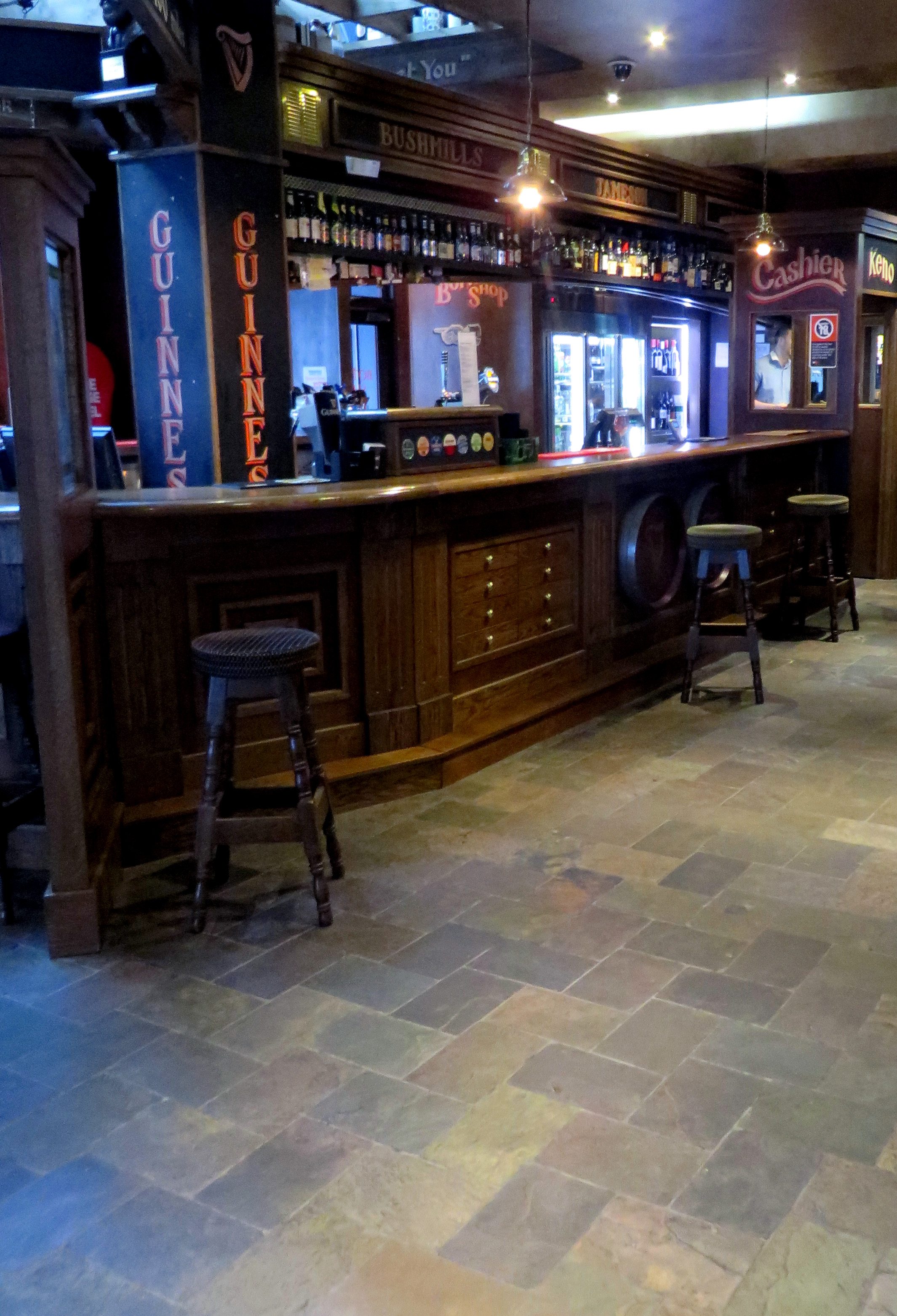 TO SEAL OR NOT TO SEAL?
THERE ARE 4 VERY PRACTICAL REASONS FOR SEALING:
When used indoors, some people prefer the colour enhancement provided by surface sealers.

The application of a surface sealer reduces dust and makes cleaning is easier.

Sealants protect the slate from oil and grease stains especially around food preparation areas. Unless these are wiped up quickly, they will leave marks on an unsealed surface.

Rajah ocasionally has small "freckles" of iron compounds that can rust over time, if exposed to salt air in outdoor situations. The application of a surface sealer for slate used outdoors is therefore recommended as it will prevent any discolouration or possible pitting.