AFRICAN SILVER BLUE FLOORING SLATE
This hard, black flooring slate has silver shimmering highlights with overtones of blue – a colour quite rare in slate. The stone has silver swirls across the surface as well as minor splashes of colour visible on around 2% of tiles - mostly yellow but sometimes orange or even crimson. It is natural split on both sides so there is a choice of surface depending on which side has the preferred colour and texture. It is suitable for all internal & external areas on any hard surface - sealed or unsealed. It can be used on both walls and floors.
SPECIFICATIONS
Tiles - 300x200, 300x300x10-16mm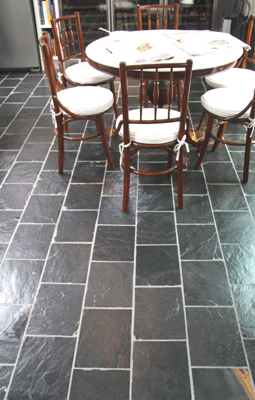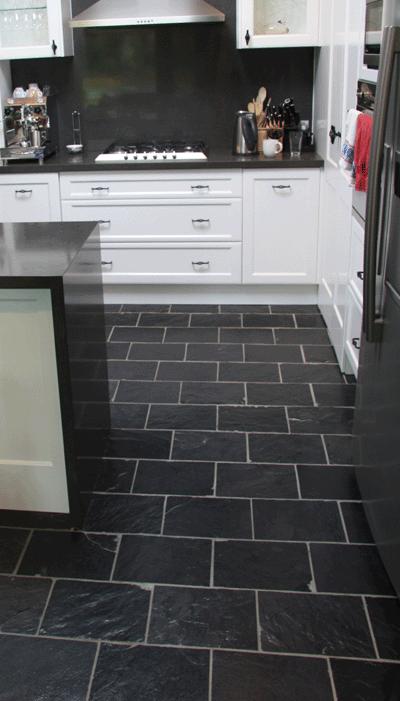 SEALING SLATE: Essential for Indoor Areas
Surface sealers work to enhance the colour of this slate and leave the surface with a gloss or semi-gloss finish. This type of finish creates a fresh, clean look to the floor. More importantly, it makes sweeping or vacuuming much quicker and easier. Surface sealers are recommended for slate because the particles that make up the stone matrix are extremely fine and if left unsealed they can create a fine dust. This is not a problem for outdoor areas but indoors it certainly is! Drink and food spillages can often be a risk for indoor slate floors but sealing takes away those worries and the sealed surface is really easy to wipe clean if the odd mishap does occur. There are a number of sealer options available that maintain the natural finish of the slate - these are becoming more popular since sealant technology has improved so much in recent years.