Like all natural stone, Classico travertine has variation in both colour and pattern, despite the fact that they have been factory sorted for both.The challenge is to always achieve consistency in both colours and patterns but maintain the individuality of each piece that make up the whole. This requires careful scrutiny in the factory so that rogue pieces are removed.
SPECIFICATIONS
Tiles, honed & unfilled - 400x400, 600x300x13mm
Tiles, tumbled & unfilled - 406x406x12mm & 610x406x12mm
Tiles, tumbled & unfilled in French Pattern (594x397, 394x392, 394x192 &192x192)x13mm
Pavers, tumbled & unfilled - 610x406x30mm
Tumbled bullnose coping - 400x400x30mm, 300x400x30mm with a full bullnose on the 300mm side
Rebated Tumbled drop down bullnose - 610x406x12/30mm
French pattern - each set = 0.716m2 made up of packs containing 1x605x400, 2x400x400, 1x400x195 & 2x195x195mm
Larger sizes are available by special order
CLASSICO TRAVERTINE - AVAILABLE FINISHES
Available Finishes: Honed, Tumbled and French Pattern
HONED
These premium quality, crosscut travertine floor tiles exhibit beautiful light coffee, caramel and beige colours.The material is extremely dense and contains fewer holes than most travertine, many of which are small in diameter. The surface has been honed and the holes left unfilled to provide character. The edges have been sawn and as you can see from the photographs the corners meet cleanly indicating the quality of the workmanship. The thickness of each tile has been calibrated to 13mm.
TUMBLED
Tumbling any kind of stone involves placing the pieces in a big, slow moving agitator full of river stones. The stones rub against the cut surfaces and round them off until they are smooth. It also abrades the surface so that it appears lighter in colour when dry. If the surface is moistened the full depth of colour is revealed. If you look carefully at the images of honed vs tumbled travertine on this page you will notice that the tumbled tiles are lighter in colour. Tumbling results in a rustic or aged antique look that is very popular and a bit trendy at the moment.
Tumbled product is less formal and more rustic looking; it is popular for outdoor areas and alfresco applications but just as popular indoors for bathrooms and rumpus rooms as you can see from the images.
FRENCH PATTERN
The image below of tumbled Classico laid out in a French pattern (4 different size pieces) demonstrates the precision of the edging and the low hole frequency - characteristics of this superior product. Each piece in the display has been selected to illustrate the full variation in both colour and pattern. You will notice that while each piece is endeared with its own personality, when combined they are harmonious. Poor quality material never achieves homogeneity as rogue pieces jump out at you and ruin the surface tapestry. The product is sold in modules of 0.72m2 which comprises 1x600x400, 2x400x400, 1x400x200 & 2x200x200mm.
CARE INSTRUCTIONS: SEALING
Classico is very dense with low porosity so it has a natural ability to resist penetration from agents that may discolour or stain the stone. In low risk areas that are swept and hosed clean (to remove leaves, debris etc) sealing may not be required. This travertine has lovely earthy colours and while it is unlikely to show dirt stains - coffee, tea, wine, oil and grease will all disclour the stone if ignored. The most vulnerable spots are kitchens and entertainment & BBQ areas where food and drink spillages are more likely. Stairs as well because of the traffic load. Warning - "Even though the stone has been found to be very durable, it should be noted that the incorrect use of sealers or surface treatments can adversely affect the stone's performance" - Jim Mann, Principal Stone Initiatives. Two very thin coats of Sealer's Choice Gold Rapid penetrating sealer should provide excellent stain protection for many, many years. Under no circumstances should surface sealers be used on this stone in wet areas or where the stone has been laid on poorly drained substrates. For more information go to Stone Sealers.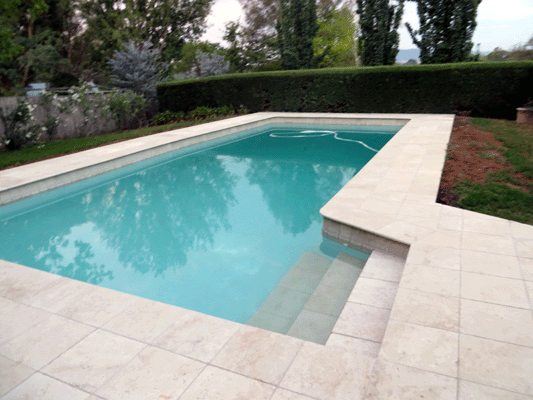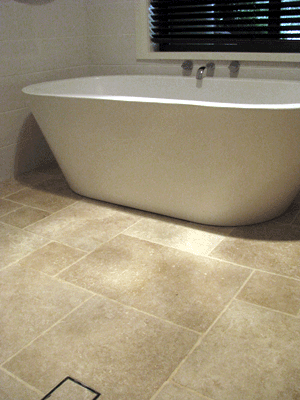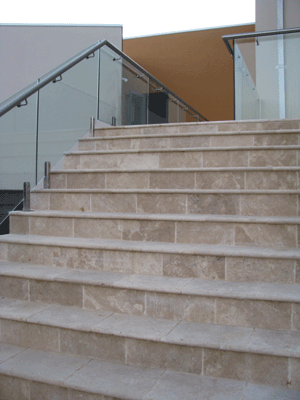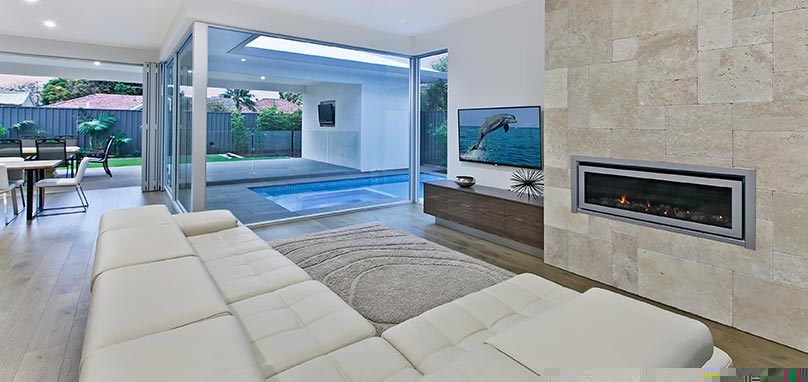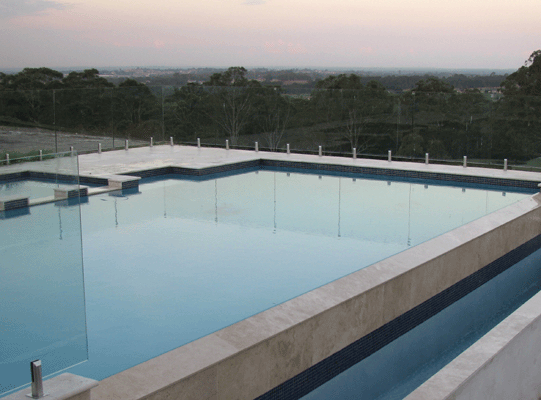 CLASSICO TRAVERTINE AROUND POOLS
The test results for Classico are as good as our quartzite, granite and bluestone for resistance to salt attack and it is well under the benchmark for use around water features and saltwater pools. This is a beautiful, dense travertine that has impressive durability credentials. Salts in solution from saltwater pools are corrosive even to a stone with such high resistance to salt. Unless you intend to wash the pool surrounds after use to remove salt residues, sealing is probably a good form of insurance. There should not be a problem using Classico around traditionally chlorinated pools as chlorine might smell a bit but it won't affect the stone.
INDICATIVE TEST RESULTS
Slip resistance (AS/NZS 4586-2004) (honed) - 36X (risk of slipping when wet = moderate)

Slip resistance (AS/NZS 4586-2004) (tumbled) - 40X (risk of slipping when wet = moderate)

Flexural strength (ASTM C880) (dried) - 17.9 MPa

Flexural strength (ASTM C880) (wet) - 17.8 MPa

Density (ASTM C97-02) - 2463 kg/m3

Water absorption (ASTM 616) by volume (porosity) - 2.8%

Water absorption (ASTM 616) by weight - 1.1%

Resistance to salt attack weight loss (AS/NZS 4456.10) - 0.04%

Resistance to salt attack classification (AS/NZS 4456.10) - AA (suitable for wet, dry & salt attack cycles)

Resistance to salt attack (AS/NZS 4456.10) mode of decay - very slight surface pitting
NB The benchmarks for use of stone around salt water pools is 0.1% weight loss or less with a minimum slip resistance classification of W.
Data Source - Stone Initiatives + Materials Testing Group South Australia
Architects - AS HB197 (see below) may be used to approximate Oil Ramp test R values - there is no conversion table as the tests are vastly different. On this basis, V (on the more relevant & less costly wet pendulum test) is closely aligned with R11 and X with R10.
INTERPRETATION OF SLIP RESISTANCE TESTS
(REFERENCE AS HB197:1999)