FLOORING TILES & OUTDOOR PAVERS
These premium quality, crosscut travertine tiles exhibit beautiful light chocolate, caramel and beige colours. The material is extremely dense and has low hole frequency and diameter unlike lower grades. This travertine has been factory filled; the corners meet cleanly indicating the quality of the workmanship. Mocha travertine tiles has mild variation in both colour and pattern, despite the fact that they have been factory sorted for both. The challenge is to always achieve consistency in both colour and texture but maintain the individuality of each piece that make up the whole. This requires careful scrutiny in the factory so that rogue pieces are removed.
Mocha travertine is really tough and very dense so it can be used almost anywhere. The most popular uses are kitchens, bathrooms, living and entertainment areas. Honed & filled surfaces are often preferred for 2 reasons. The first is that factory filled travertine has greater durability than grout filled tiles done by the tiler as grout discolours over time. The second reason is ease of cleaning - factory filled tiles have been honed off after filling so there are no dents or divots in the surface. The holes are barely noticeable and sometimes hard to detect.
SPECIFICATIONS
Tiles (honed & filled) - 305x305x10mm, 457x457x12.5 & 610x305x12.5mm
stock clearance
All current stocks of Mocha are being sold at a discount as we are unable to secure future access to this quarry. The quarry from which this stone was cut is closing and the new stock will have a slightly different colour and pattern. Current stock are all factory filled which is a significant advantage for durability.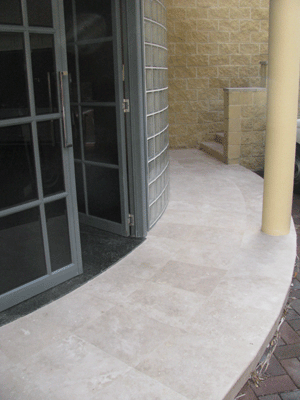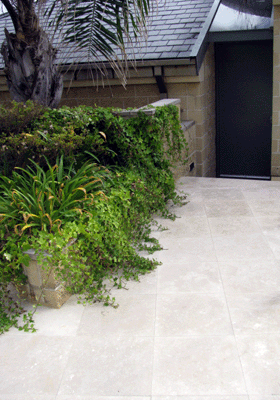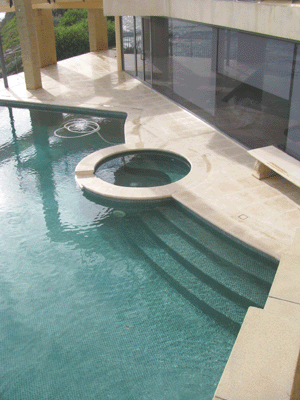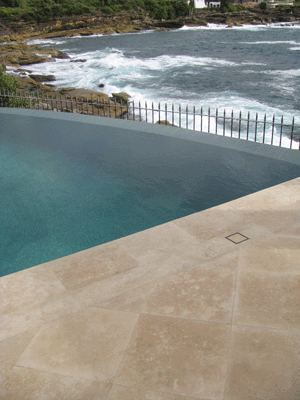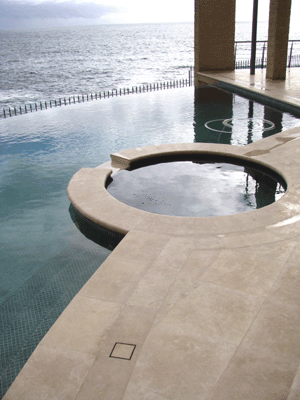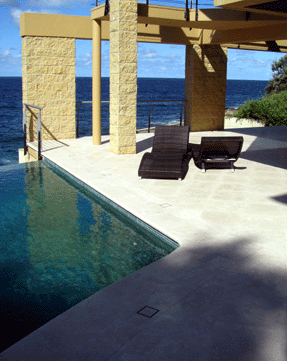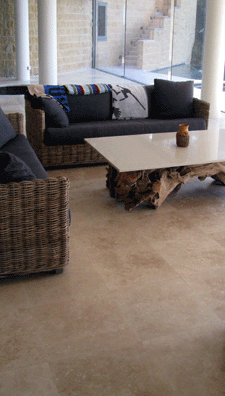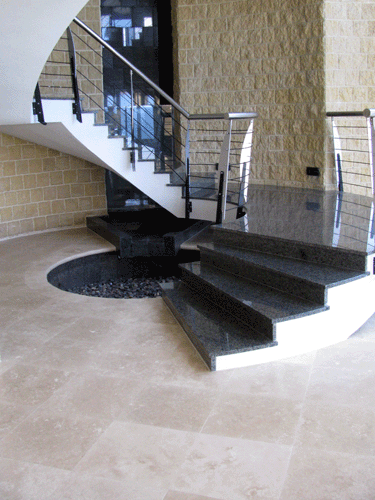 INDICATIVE TEST RESULTS
Slip resistance (AS/NZS 4586-2004) (honed) - 34Y (risk of slipping when wet = high)

Flexural strength (ASTM C880) (dried) - 16.4 MPa

Flexural strength (ASTM C880) (wet) - 13.6 MPa

Density (ASTM C97-02) - 2416 kg/m3

Water absorption (ASTM 616) by weight - 1.8%

Resistance to salt attack weight loss (AS/NZS 4456.10) - 0.3%

Resistance to salt attack classification (AS/NZS 4456.10) - A (suitable for exposure to frequent wetting and drying or moderate level of salt attack)

Resistance to salt attack (AS/NZS 4456.10) mode of decay - slight surface pitting
NB The benchmarks for use of stone around salt water pools is 0.1% weight loss or less with a minimum slip resistance classification of W.
CARE INSTRUCTIONS: SEALING
This travertine is relatively light in colour and while it is unlikely to show dirt in an obvious way, coffee, tea, wine, oil and grease will all discolour the stone if ignored. The most vulnerable spots are kitchens and entertainment & BBQ areas where food and drink spillages are more likely. Even a light, cooking grade, olive oil will leave a residue unless the stone is sealed. However, if you are a fastidious cleaner and careful cook, sealing might not be necessary. Two coats of Sealer's Choice Gold penetrating sealer should provide excellent stain protection for many, many years. For more information go to, stone sealers.